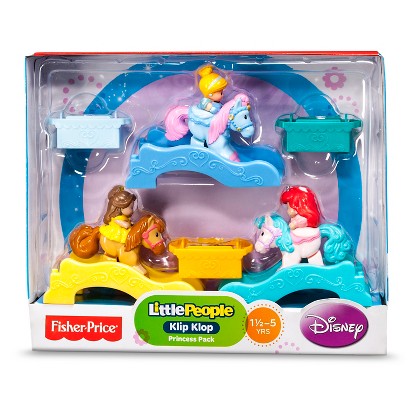 Fisher-Price makes a toy now that I would have gone absolutely CRAZY for as a child:  LittlePeople Disney Princess Klip Klops.  What Klip Klops are are molded figures of Disney princesses sitting on horses.  The horses legs are moderately articulated so when they roll down the Klip Klop ramps, they actually make a "clip clop" noise just like a horse moving.  Peanut and Sprout are both absolutely enchanted by these:  they are truly a fabulous noisy toy.
Grandpa bought Sprout a huge Klip Klop castle for her birthday.  The castle came with two princesses and their horses, has a built-in musical merry-go-round (that we virtually never use), two little stables for the klip-klop horses to live in, and tons of ramps for them to clip-clop down.  Peanut and Sprout both love this–you get to hear the horses make noise for a long time, and the ramps also double as rumbly ramps for toys cars to race down (Peanut's a 5-year-old boy.  Of course we've run cars down it).
Although I absolutely recommend the toy as an awesome noisy toy for little princess and horse-lovers, the castle is a challenge to put together.  There are tons of little stickers that have to be placed just so, so this is a toy that children will need help putting together, or a visually impaired adult might have to tap in a sighted friend to help get the stickers on right.